Big question on security of embedded devices.
An embedded device is only as good as the firmware/software running on it.  Icon Labs and Mentor Graphics have partnered to develop a security framework for industrial automation systems. Alan Grau (alan.grau@iconlabs.com) of Icon Labs and I hosted a webinar to address this topic: Developing Industrial Control Systems which meet Security and Regulatory Requirements , which is viewable on demand.
We talked about a security framework that provides a number of security features to protect the device from runtime attacks. During the session, a question was raised about the ways a framework could be used to prevent certain type of attacks in which a hacker replaces the firmware on the device with their own malicious firmware. The question is very relevant as this technique was recently experienced in the real world to reprogram point of sale terminals at retail vendor causing a data breach exposing customer account information.
This question brings up a very important point.  If a hacker is able to replace firmware then they can disable security features and all bets are off.  All of the great capabilities of the security framework could be bypassed.  As such, secure boot is a critical security feature to ensure that embedded devices are running valid software from the OEM, and preventing these types of attacks is extremely important.
How does secure boot work?
Secure boot starts by executing a first stage boot loader stored within secure flash memory provided by the TPM hardware.  This boot loader is stored within protected memory so it cannot be replaced by hackers.
Also stored in protected memory along with the first stage boot loader is the signature and crypto key for the second stage boot loader.  The first stage boot loader calculates the signature of the second stage boot loader using the hardware crypto support and crypto key.  If the calculated signature for the second stage boot loader matches the stored signature, we know the second stage boot loader is valid and allowed to run.  The second stage boot loader repeats this verification process before loading the operating system.
Operating systems supporting loadable applications or tasks can repeat this process yet again with each application before it is loaded.  For RTOSes that are downloaded as a single monolithic image containing both the OS and apps in one image, this process does not need to be repeated at the OS level.  This process can be extended to validate libraries or data files stored on the device.
SoC Features with Root of Trust
The good news is that many silicon vendors provide features in their SoCs to enable secure boot and root of trust. The bad news is that implementation varies from vendor to vendor and even from device to device from the same vendor. As such, a turn-key, one way of doing things approach would not work, but we have worked with major silicon vendors to make sure that framework presented in the webinar could be used with their devices and use the hardware capabilities to anchor the software to the hardware while establishing the chain of trust.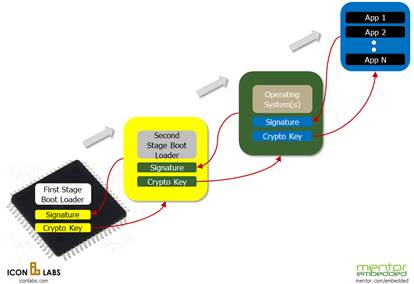 embedded, embedded software, industrial, internet-of-things, iot, Linux, medical, Mentor Embedded, nucleus, Nucleus RTOS, open source, security